Half "D" Roll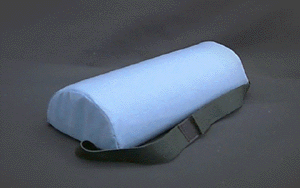 This is a lower back and neck support for therapeutic use, rehabilitation exercises, and workouts. It is used on all chairs and seats, at home or at the workplace. It is also used as a head and neck rest pillow for cars and home use. The elastic straps are available with a Velcro fastening or plastic ABS side release clip. This product is available in all our in stock designer fabrics. The fabric cover is equipped with a durable zipper so that you may easily remove it for washing purposes.

The foam used is a Vita Ultracell Polyurethane foam, wrapped in plastic to prolong the life of the foam and product for years of proper compression and resiliency.

Dimensions of the Lumbar Half Roll are: 28.5 cm. long X 13-cm. diameter half circle.